Recent Posts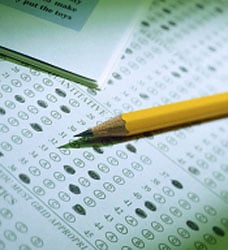 When it comes to college admissions, the SAT is "the Big Exam." And when it comes to this exam, it is the SAT Verbal section that often makes students most anxious. There are two approaches that can be helpful to think through as you go about picking the correct choice. Our PSAT tutor and SAT tutors are great at teaching our students to think about the questions in the way that works best for them. For some students, the Big Picture method works well, and for others, the Process of Elimination works best. Using a combination of the two throughout the exam can help to boost your score significantly.
Thinking About The Big Picture:
The "Big Picture" approach is exactly what it sounds like. As you read the passage, begin to form a picture in your head of the author's main points and the structure of the author's argument. From this picture, you can infer the answer.
For example, this might be your thought process for a question that asks what 2 passages about the Mona Lisa contain:


What does the first paragraph of each essay talk about? The Mona Lisa. What, in particular, about the Mona Lisa? The exceeding popularity of the painting. Passage one paints a dramatic picture of the lines and crowds interested in seeing the painting, and passage 2 asks specifically, "Why is the Mona Lisa the best-known painting in the world?"
Answer choice C most correctly aligns with these.
Using Process of Elimination:
Learning to use the Process of Elimination method is an excellent step in your standardized test preparation. If any or all parts of an answer are incorrect, you can immediately eliminate that answer and then move on to the next answer choice.
Read More
Tags: SAT